Profile
Russell IPM

Russell IPM is the leading manufacturer of pheromone based insect monitoring and control systems in the UK and one of the largest in Europe. Our core expertise is insect's behaviour modifying systems and natural product based biorational pest management. Translating science to innovative products to deliver safe, effective and environmentally friendly solutions to the pest issues faced by pest controllers and hygiene officers in food processing and storage facilities.
With a steadfast commitment to research and development Russell IPM maintains a position at the forefront of pheromone based insect monitoring and control technology with a range of specialist systems for use in the agriculture sector, food processing, storage and distribution facilities and other public health fields.
Our Capabilities

Over the last 24 years the Russell IPM research and development team has focused on developing high potential new products. To best serve the agriculture sector, stored product industries, home and garden markets our research facilities include a pheromone dispenser formulation laboratory, trap adhesive research unit, a sophisticated wide range of pressure sensitive adhesive coating equipment, technology to incorporate pheromones and attractants in to the adhesive layer, an advanced in house printing facility for custom made products.
With the impending phasing out of methyl bromide and other very high residue conventional pesticides leading to the rapid reduction of its use within agriculture and the food industry, Russell IPM can now offer Dismate PE a unique mating disruption system. With ten years real life, proven experience Dismate PE is a real alternative of methyl bromide fumigation to combat food moths. Dismate PE system is now UK registered.
Research and Development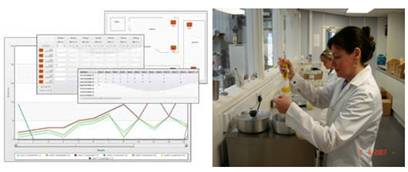 Year on year our R&D generates new technology that fulfils our customer needs and enables us to develop the most promising products. Russell IPM has been the commercial partner in DEFRA (UK), KTP (UK) and EU funded projects concerning the development of multi-species attractant and pheromone release control technology. To maintain the highest quality our technical team ensures strict quality control checks on every products before being manufactured. We also offer full product support and information through our multifunctional web page www.russellipm.com
Where to Find Us

The Russell IPM headquarters and main production facility is based in Deeside in the UK. In addition there are five marketing subsidiaries in Spain, Morocco, Algeria, Jordan and Bangladesh. Working closely with distribution partners Russell IPM supplies a range of insect monitoring and control products worldwide.